Website Survey Tool
A Pop-up Survey Designed to Capture and Identify Improvement Areas
Greystone.Net offers a growing suite of services and products to help the healthcare organization discover and understand the voice of the digital customer.

Greystone.Net offers an online experience survey that provides objective and direct insight into the Voice of the Digital Customer.
The traditional satisfaction survey often fails to provide useful information on how to improve the user experience. To remedy this, gSight is designed to hunt for website improvements.
It identifies and prioritizes areas where your website needs the most improvement. gSight also compares your website performance to peer benchmarks and provides Leaderboard scores. And, the metrics are designed to provide a better understanding of the influence your website has on your brand.
Use gSight to understand how your online experience is affecting your brand, and how to improve both.

KEY BENEFITS
Not just a traditional satisfaction survey; It's also a 'digital brand experience improvement tool' with real-time data
Designed specifically for hospitals and health systems
Continuous and unlimited survey completes
Detailed milestone reports with recommendations from industry experts
Online real-time reporting dashboard that you drive
Benchmarks plus statistically-derived 'Leaderboard' metrics to see how you compare
Mobile friendly
Puts respondents in charge for what aspects of the website experience they feel need improvement, not how satisfied they are
Lower cost alternative - one price for PCs, smartphones and tablets
Limited hospital resources required - can be up and running in less than a day
Set your goals and watch your progress
Developed and offered jointly by Greystone.Net and Klein & Partners, a leading healthcare market research and brand consulting firm.
DASHBOARD REPORTING
Data is collected and clients can view real-time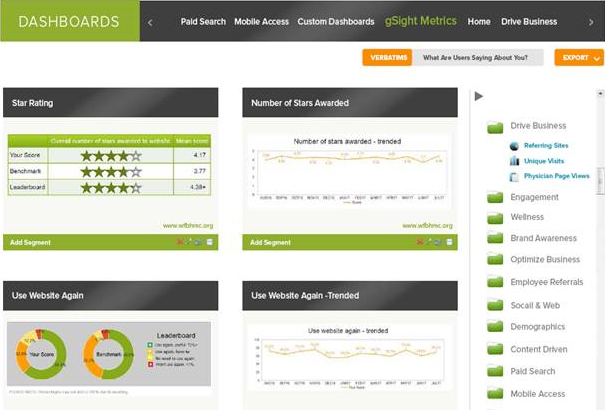 Our team will help guide you in correctly embedding the java script code on your website.
You customize the invitation with your brand and decide how many times an invitation is offered
The survey runs automatically on all versions of your website (e.g., desktop, mobile, tablet)
Reporting
Detailed reporting and recommendations for improvements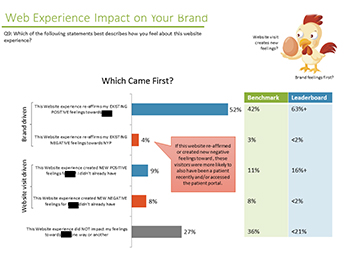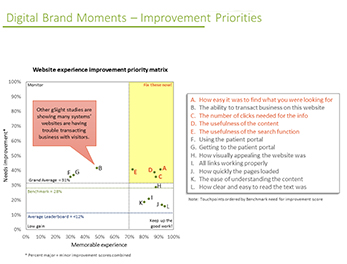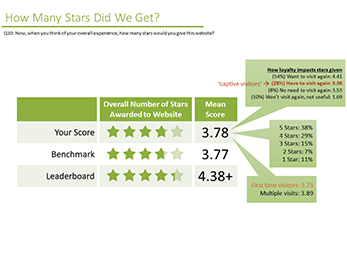 As an affordable add-on option, gSight clients can opt-in to include Hotjar to their gSight account. Hotjar is an online tool that provides additional insigt into the experience of your website visitors via heatmaps, video motion recordings form analysis and more.

This service also helps:
Identify usability issues by allowing you to watch recordings of real visitors on your site as they click, tap, move their cursor, type and navigate across the pages.
Find the biggest opportunities for improvement and testing by identifying on which page and at which step most visitors are leaving your site.
Improve online form completion rates by discovering when and why your visitors abandon your forms.

Pricing and More Information
Can We Provide More Information or Tailor a Quote for You Based on Your Needs?
Success! Thanks for filling out our form! A gSight team member will respond to your request soon, no later than the next business day.