About Greystone.Net

Greystone.Net provides a variety of professional services including:
Web/digital strategy consulting
Professional development options including the well-known and highly-regarded annual Healthcare Internet Conference (HCIC) and the ongoing Backstage Pass webinar series
Several solutions and products, each designed to help our clients benefit from the rapidly-evolving trends and technologies in the healthcare MarTech space.
Greystone has worked with hundreds of hospitals and health systems as they strive to develop, implement and integrate interactive marketing strategies. We add valued strategic thinking to digital healthcare. And, we continue to develop new strategies and products to enable healthcare organizations to establish and grow their brand in an environment where consumers expect 24/7 access, information and service.
What's in it for Vendors?
Greystone.Net's vendor program is designed to create strong, relevant and effective partnerships. The advantages are simple:
Increase business exposure
Enhance business placement
Showcase products and services
Strategic Partnership Opportunities
GreyMatters e-Newsletter Email Blast Ads
Vendors may choose to display ads in our monthly e-newsletter, GreyMatters. This e-newsletter is a digital healthcare industry newsletter that provides thoughts, perspectives and knowledge relevant to hospitals and health systems. GreyMatters is released on the first day of the month (or on the first business day of the month if the first day falls on a weekend or holiday).

Sample list of titles subscribed to GreyMatters:
VP of Strategic Marketing
Consumer Engagement Director
Manager, Communication/Digital Media
Marketing & Communications Manager
Senior Manager, Integrated Marketing
Director, Digital Communications
Director Digital Strategies

Web Production Specialist
Director, Digital Marketing
Director, Business Development & Marketing
Marketing Specialist
Web Analyst
Digital Consumer Engagement
Managing Editor, Digital Content
Director of Marketing & Communications
Ad Dimensions:
Banner ad dimensions 565W x 130H pixels
Email Data:
4,000 total subscribers
3,300 providers
450 email opens

¼ Page HCIC Conference Program Ad

Advertising space appears in the Healthcare Internet Conference Program sent to approximately 19,000 marketers in healthcare nationwide. Ad must be submitted by the vendor for approval.
¼ Ad Dimensions: 5"W x 6.5"H
½ Page HCIC Conference Program Ad
Advertising space appears in the Healthcare Internet Conference Program sent to approximately 19,000 marketers in healthcare nationwide. Ad must be submitted by the vendor for approval.
½ Ad Dimensions: 9.5"W x 6.5"H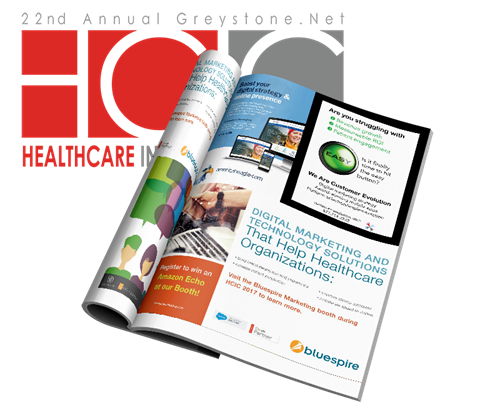 Backstage Pass Webinar Presentation
Take the opportunity to host a webinar attended by healthcare leaders in the industry. Greystone moderates the webinar and promotes it on social media channels, the Greystone website, GreyMatters and through email blast to maximize the amount of exposure to increase sign-up rates. A recording is sent to attendees once the webinar has concluded and a list of attendees is provided to the vendor sponsor.

Booth Discount and Priority Placement in the HCIC Exhibit Hall
Booth space is limited so if you are planning on attending the Healthcare Internet Conference, take advantage of a reduced cost for a 10'x 10' booth and enhanced booth placement at the next conference. Vendors who participate in the Vendor Partnership Program at the Premium and Premium + Packages, will be awarded bonus points in the booth placement calculations.

Guest Content – Newsletter and Blog
Greystone is committed to providing educational and informative content on topics pertinent to the healthcare marketing industry. Greystone welcomes written content for blogs and the GreyMatters (e-newsletter) from our vendor partners. For more details on guest content, please see our Guest Content Guidelines.

Whitepaper, Case Study or Industry Specific Survey
Greystone partners with vendors who have an interest in being thought leaders in the digital and web space for healthcare. Once a topic is mutually agreed upon, Greystone develops the processes, calendars and handles the writing and designing of whitepaper. Greystone also manages the marketing and distribution process. Client is actively involved in content development and review.
Terms and Conditions These are the Terms and Conditions for Greystone.Net's Vendor Partnership Program.
1.All advertising (subject matter, form, wording, illustrations and typography) submitted is subject to the approval of Greystone.Net. We reserve the right to refuse any advertising content that does not meet our standards of acceptance.
2. Greystone.Net reserves the right to refuse or discontinue using any advertisers (based on advertisements) or advertisements that could have a negative impact on any digital/print (including but not limited to websites, email newsletters, print publications, mobile applications, and advertising) readers as determined by Greystone.Net management.
3. The subject matter, form, wording, illustrations and typography of all advertising are subject to approval by Greystone.Net, but unless otherwise authorized in advance, no change will be made without the consent of the Greystone.Net or Advertiser. Advertising content that attacks, criticizes or demeans any individual, race, religion, sex, age, national origin, veteran's status, institution, firm, business, profession, organization or affectional preference shall not be accepted.
4. All display advertisements submitted must plainly identify the name of the Advertiser.
5. Greystone.Net does not allow any political, religious, alcohol, tobacco, firearms, or sexually-related materials [a ban on sexually-related content, including adult-related materials.
6. Type of heading, text, etc., shall not be the same or similar to that used by any Vendor Partnership partner news and editorial content that can be perceived as material provided by the publisher. Advertisements having the appearance of editorial material must have Advertisement printed above. Greystone.Net reserves the right to insert "Advertisement" above any copy.
7. Greystone.Net shall not be liable for slight changes or typographical errors that do not lessen the value of an advertisement. Greystone.Net shall not be liable for any other errors appearing in an advertisement unless Greystone.Net received corrected copy before the copy deadline, with corrections plainly noted thereon. In the event of an error in an advertisement for which Greystone.Net is liable as herein defined, its liability shall be limited to refunding such proportion of the entire cost of the advertisement as the space occupied by the error bears to the whole space occupied by such an advertisement.
8. The liability of Greystone.Net for failure to publish an advertisement for any reason in the issue specified shall be limited to publishing the advertisement in a subsequent issue (at the regular rate).
9. Terms of sale for ads: All payments are due upon securing placement unless otherwise specific in the Sales Agreement.
10. Greystone.Net may revoke the credit privileges of any Advertiser for failure to pay charges when due. Greystone.Net may declare all monies owed by an Advertiser immediately due and payable in full. Greystone.Net may also refuse or decline an Advertiser based on failure to pay charges when due on any past transactions (not limited to current advertising ventures).
11. If an account becomes delinquent, the Advertiser is responsible for paying collection costs, attorney's fees and any costs associated with placing the obligation with a collection agency or to an attorney for litigation.
12. A service charge of $50 will be added to any check returned to Greystone.Net unpaid by the Advertiser's bank.
13. The Advertiser and/or Advertising Agency agrees to defend and indemnify Greystone.Net against any and all liability, losses or expenses arising from claim of defamation, unfair competition, unfair trade practice, infringement of trademarks, trade names or patents, violations of rights of privacy and infringement of copy rights and proprietary rights resulting from the publication of Advertiser's advertisement.
14. Advertisers and Agencies forwarding orders to Greystone.Net which contain incorrect rates and conditions are hereby advised that the advertising called for will be inserted and charged at the regular schedule of rates and conditions enforced at that time.
15. Any Advertiser or Advertiser's Agency that do not adequately provide creative content five (5) business days prior to the drop date for space purchased will still be responsible for payment whether the placement runs correctly or not. The Advertiser is expected to approve or decline any creative designed by Greystone.Net within 48 hours. If approval or decline is not received, Greystone.Net will proceed as if it has been approved and run the creative.
16. Greystone.Net reserves the right to change advertising rates and conditions on thirty (30) days' written notice by any reasonable business means, including publication on the Greystone.Net website. Any Sales Agreements fully-executed in advance of the rate change date will be honored at contracted rates.
17. Cancellation policy: All Ad placements are limited in nature, and all cancellation requests must be made in writing within three (3) days of purchase.