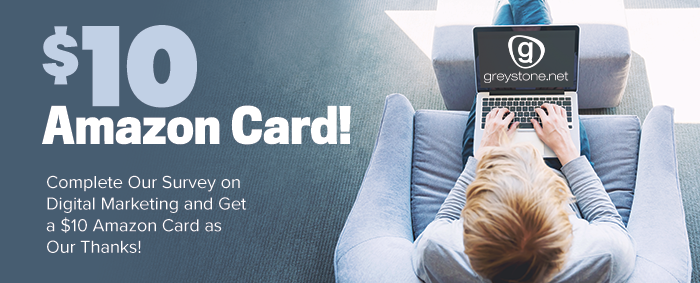 Welcome and thank you for participating in the 5th Annual Healthcare Industry Marketing Leadership Survey, conducted jointly by Greystone.Net and Klein & Partners.
This study is designed to collect a wide variety of data on the current priorities and activities of today's contemporary healthcare marketing function. Completing the survey should take approximately 15-20 minutes and be assured that any data you submit will remain completely confidential and will be used only in the aggregate.

And, if you provide your email address at the end of the questionnaire, we will send you a $10 Amazon e-gift card, when the survey period closes, as our way of saying "Thank You!" And, of course, we'll be happy to share the aggregated results with you.

Note that the survey will be open until end of day on Friday November 8, 2019. Please complete the survey before that date.

Thank you again, and if you have any questions or concerns, please contact us at info@greystone.net.