Helps you prioritize and focus your website improvement and enhancement efforts. A suite of digital improvement solutions including a pop-up website experience survey tool, a user-friendly dashboard and reporting tool, a user behavior tracking tool, expert consulting services, and more.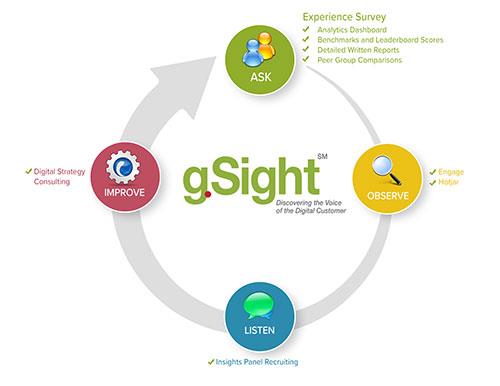 Ask: Visitor Experience Survey
The foundation of gSight is the website customer experience survey. It uses a unique questionnaire with contemporary phrase-based responses to uncover the elements of your website that need improvement.
Measures your visitors' experiences with the design, navigation, functionality, transaction and content , performance of your website
Helps prioritize areas in need of improvement
Guides decisions on future investments
How Does It Work?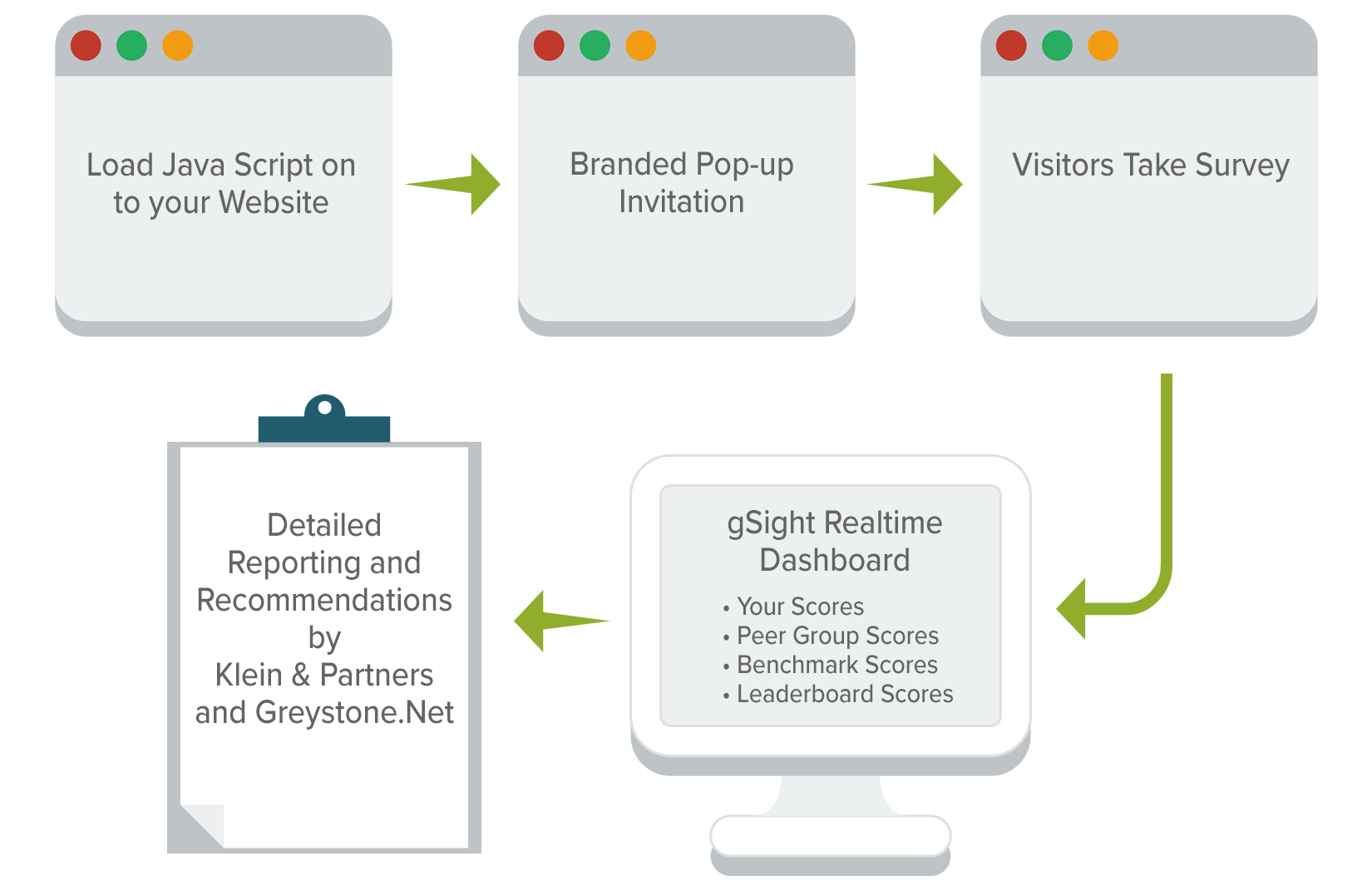 Dashboard Reporting
Data is collected and clients can view real-time.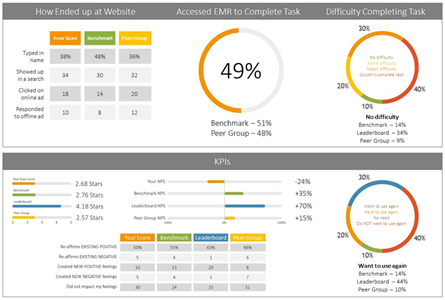 Saves budget dollars
Mobile friendly
Provides continuous and unlimited survey completes
Online real-time easy-to-use reporting dashboard
Detailed benchmark reports with recommendations from industry experts
Healthcare-specific benchmarks and statistically-derived leaderboard scores
Verbatim responses providing real-world details about a user's digital experience.

Observe: The Healthcare Customer Experience
As part of the standard gSight package, clients receive one Individual Greystone Engage Membership. Engage is a one-of-a-kind, members-only offering to stay connected, informed and current by sharing knowledge with colleagues, peers and leaders and keeping-up with industry trends and market developments. Engage provides peer and national comparisons of Google Analytics data, staffing, budget and more, and includes a custom analytics dashboard that can provide you with goal-focused results.

Optional tools (additional fees may apply):
Additional reports and webinar presentations throughout the year to help analyze and measure impacts of special campaigns or website design projects
Verbatim analysis package to identify and act on specific visitor comments that require immediate attention or comments which help to inform future design efforts
Hotjar behavior and analytics tools such as heatmaps, recordings, funnel analysis, form utilization and feedback widgets may be added to drill down into specific pages of your website to understand how visitors are behaving on your site
Listen: Insights Panel Recruiting

For an additional fee, establish a continuous process for recruiting panel members for other research projects, user testing tools for web development/improvement purposes, general marketing purposes or to test redesign options.
Improve: Digital Strategy Consulting
Other consulting, analysis and reporting services can be proposed to help you better understand the interaction of your brand and the website experience, and then, how to improve both. Gain the expertise and insights from healthcare market research and digital leaders who also have an outside industry perspective.
Watch and Learn How to Listen to the Voice of the Digital Customer to Improve your Brand's Experience
For More Information
Can We Provide More Information or Tailor a Quote for You Based on Your Needs?
Success! Thanks for filling out our form! A gSight team member will respond to your request soon, no later than the next business day.